Town Clerk's Office Hours:
Monday through Thursday
10 AM to 1 PM.
ph: 607-642-8746 during office hours
The Town of Newark Valley Town Hall
is OPEN M-F from 10-1
607-642-8746
---
Division On Addictions
is an organization that helps
to find addiction treatment
options that are the best
for each individual situation.
Our services are 100% free. https://www.addictiontreatmentdivision.org
/drug-alcohol/new-york/.
---
PUBLIC EMPLOYER
HEALTH EMERGENCY PLAN
for
TOWN of NEWARK VALLEY
---
Board Meetings held
1st and 3rd Tuesday of each month in the
"Lena Terpenning Bushnell Room" of the Newark Valley Town Hall at 109 Whig Street
---
*Newark Valley
Town Court*
phone: 607-642-5278
*please leave message if no answer*
---
...

Town of
Newark Valley
HOLIDAY CLOSINGS

---
.........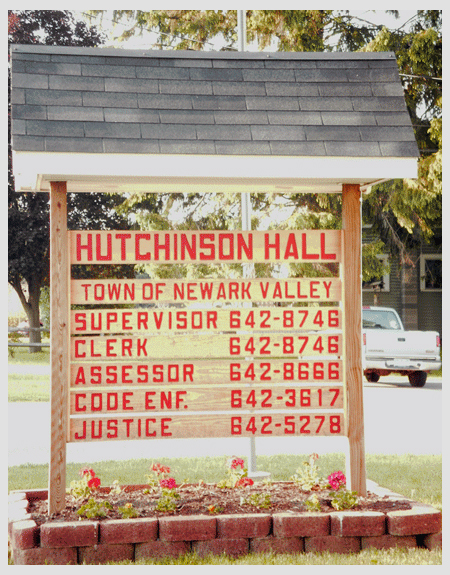 The November 9th Planning Board Meeting has been canceled.

The next planning board meeting will be December 14 @ 7:30 PM
---
The November 1st 2022 Work Session has been canceled.
We will have a Work Session and Public Hearing on November 9, 2022 at 7:00 P.M.
---
NEW to Webpage: Agenda: November 15, 2022 board meeting
---

Lighting
of the
Green information

---
LEGAL NOTICES
Legal Notice: 2023 Preliminary Budget
Legal Notice: Public Hearing for Local Law #1-2022 override tax levy limit
Legal Notice: Final Assessment Roll 2022
Legal Notice: Public Hearing on 1779 West Creek Solar Project
Legal Notice: Tentative Assessment Roll & Grievance Day
---
The Town of Newark Valley is anticipating an opening on the Town Board.
If any resident of the Town is interested in serving,
please send a letter of intent and a brief resume to the town at:
109 Whig Street, Newark Valley, NY 13811, Attn: Town Supervisor.
---
TAX COLLECTOR:
Wanda Grover
2023 TAX COLLECTION HOURS
JAN & FEB – Mon-Thurs 2:00-5:00 PM
MAR/APR/MAY –Tues & Weds ONLY 2:00-5:00 PM
Check or cash only - No cards accepted
Make checks payable to & mail to:
Town of Newark Valley Tax Collector
109 Whig St, Newark Valley NY 13811
Please contact the Tioga County Treasurer's office
at 607-687-8670 for amounts and instructions on how to pay
2022 and prior year taxes. You may also check their website
---
PLEASE NOTE:

Neither the TOWN CLERK nor the TAX COLLECTOR CAN ACCEPT CREDIT or DEBIT CARDS



---

2022 ADOPTED BUDGET
---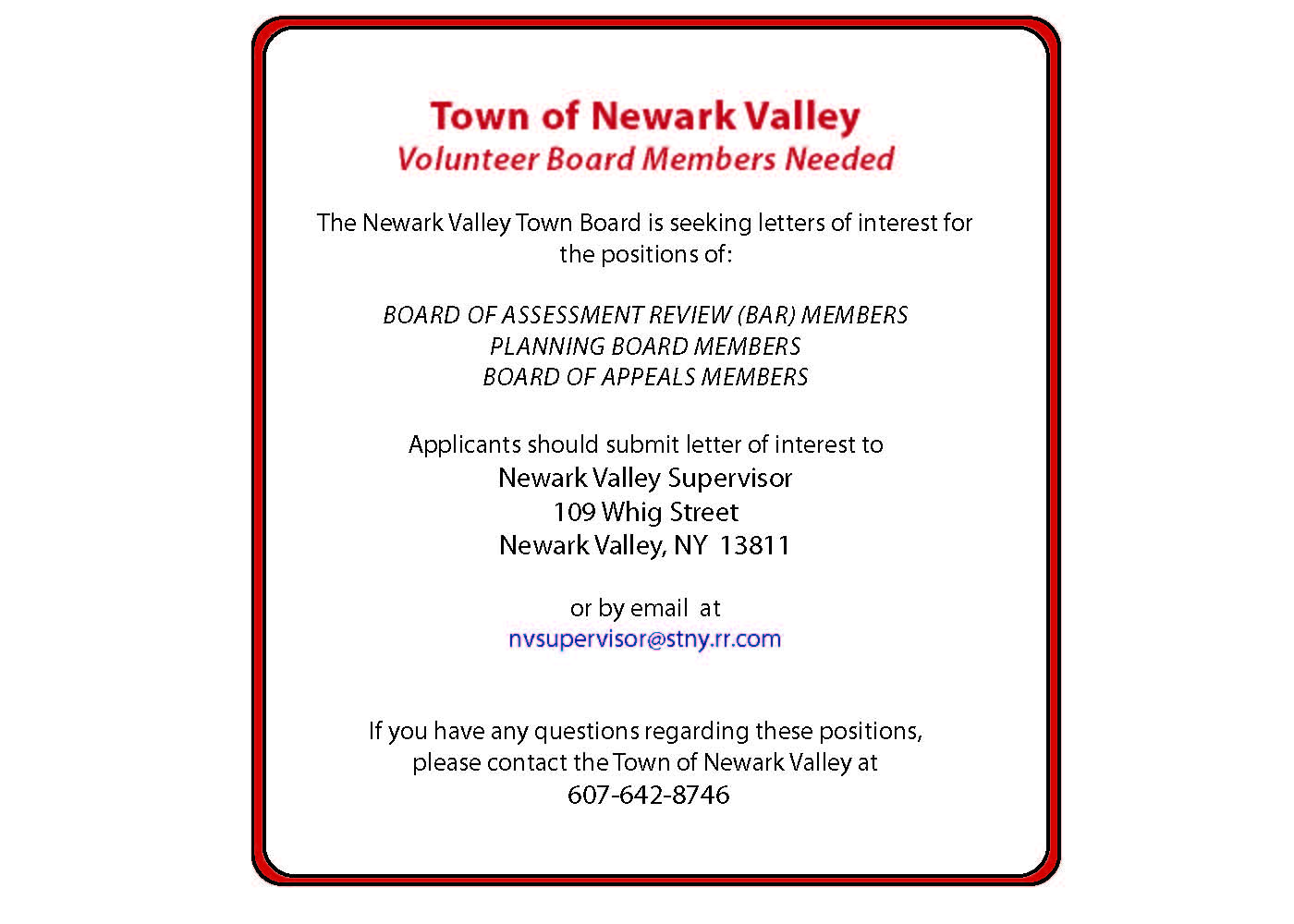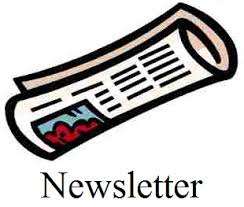 DOG ENUMERATION FORM
due by November 30, 2022
---
DATES TO
REMEMBER
Town Board Meetings:
1st & 3rd Tuesday of each month at 7:00PM
Town Court:
2nd & 4th Thursday of each month at 4PM.
2nd Tuesday of each month at 4PM
Town Assessor:
Mondays 2-5PM
Code Enforcement Officer:
Tuesday & Wednesday
4PM-7PM
Town Hall Receptionist:
Monday through Friday 10AM-1PM
Town Clerk:
Monday thru Thursday
10AM to 1PM,
Closed Friday.
Planning Board
2nd Wednesday of each Month at *7:30PM
---
*Beginning with the December 14 meeting, the Planning Board will now meet one hour later, @7:30 instead of 6:30.