Town Clerk's Office Hours:
Monday through Thursday
10 AM to 1 PM.
ph: 607-642-8746 during office hours
The Town of Newark Valley Town Hall
is OPEN M-F from 10-1
607-642-8746
---
PUBLIC EMPLOYER
HEALTH EMERGENCY PLAN
for
TOWN of NEWARK VALLEY
---
Board Meetings held
1st and 3rd Tuesday of each month in the
"Lena Terpenning Bushnell Room" of the Newark Valley Town Hall at 109 Whig Street
---
*Newark Valley
Town Court*
phone: 607-642-5278
*please leave message if no answer*
---
...

Town of
Newark Valley
HOLIDAY CLOSINGS

---
.........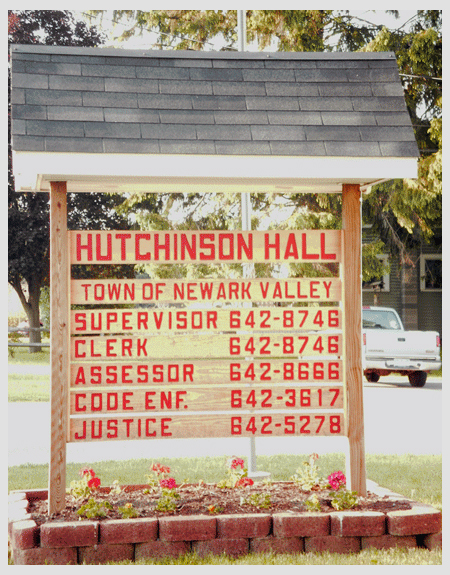 The July 6, 2021 Board Meeting has been CANCELED
Town of Newark Valley

Informational Hearing

The Newark Valley Town Board will hold an Informational Hearing

concerning the Floodplain Restoration Project on Town Property

on May 18, 2021 at 7:30 PM during the Regular Town Board Meeting.

By Order of

Stuart Yetter, Jr. Supervisor

Town of Newark Valley
---
EFFECTIVE MAY 1, 2021
The Newark Valley Court will be going back to IN-PERSON APPEARANCES
---

TAX COLLECTOR: Wanda Grover
2021 Office Hours:

January 4 - February 28:
Monday-Thursday 2:00 - 5:00 PM

March 1 - May 31:
Tuesday & Wednesday Only 2:00-5:00 PM
NO PAYMENTS after 5/31/2021
---
LEGAL NOTICES:
Legal Notice: Tentative Assessment Roll & Grievance Day 2021
Legal Notice: Tax Warrant 2021
---
Town of Newark Valley Town Hall is now OPEN with regular business hours
---
NOTICE: As of July 2019, a unanimous decision was made by the Town Council to treat all new car ports as structures and as such a permit will be required before building. (2015 IBC Section 312)
---
PLEASE NOTE:

Neither the TOWN CLERK nor the TAX COLLECTOR CAN ACCEPT CREDIT or DEBIT CARDS



---
STANDARD WORK DAY RESOLUTION 2020

---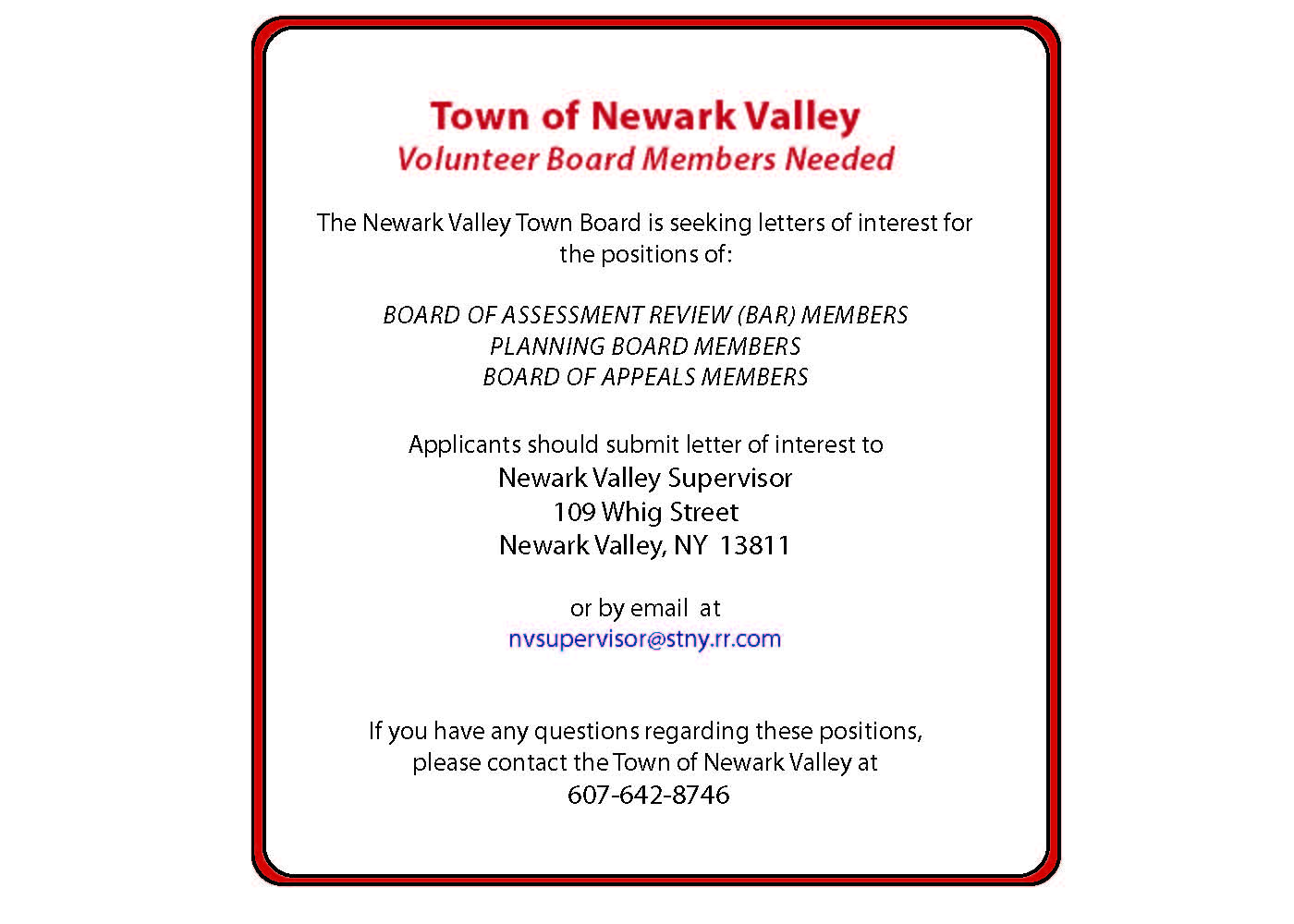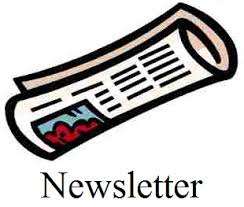 ---
DATES TO
REMEMBER
Town Board Meetings:
1st & 3rd Monday of each month at 7:30PM
Town Court:
2nd & 4th Thursday of each month at 4PM.
2nd Tuesday of each month at 4PM
Town Assessor:
Mondays 2-5PM
Code Enforcement Officer:
Tu. & Wed. 7-10AM
Town Hall Receptionist:
Monday through Friday 10AM-1PM
Town Clerk:
Monday thru Thursday
10AM to 1PM,
Closed Friday.